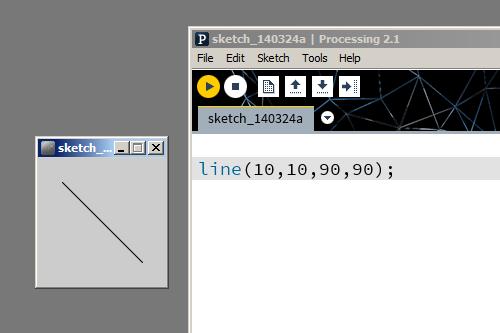 A seminar at Fachhochschule Dortmund, University of Applied Sciences and Arts, Faculty of Design.
Dienstags, 13-17 Uhr, Raum 311
25.03.2014: Einführung
Random input: Ivan Sutherland: Sketchpad (Doktorarbeit), Frieder Nake: 13/9/65 Nr. 3 Zufälliger Polygonzug, Cory Arcangel: Photoshop Gradients, Charles Joseph Minard: Carte figurative des pertes successives en hommes de l'Armée Française dans la campagne de Russie 1812–1813, Boris Müller: Poetry on the Road, John Maeda: Flying Letters, Nicholas Negroponte: Seek, Jongwon Choi: Mneme
Aufgabe 0: Processing downloaden und installieren
Aufgabe 1: Instruction-based drawings (siehe z.B. Wall Drawing #118: Anweisung plus Bild, Sol LeWitt)
Definiert eine Anweisung und erzeugt ein Bild, das auf dieser Anweisung basiert. Verwendet z.B. Lineal, Geodreieck, Würfel, verschiedene Stifte und geometrische Grundformen (Strecken, Kreise, Rechtecke) usw.
01.04.2014: Form & Struktur I
Grundlagen: Form I, Struktur I
Aufgabe 2: (a) Random, Variable und If, sowie (b) erste Studie zur Form
08.04.2014: Form & Struktur II
15.04.2014: Form & Daten I

22.04.2014: Ostern
29.04.2014: Form & Daten II
Sonnenstunden: Daten II
Aufgabe 4: Raster
05.05.2014: Text und Typografie
Text und Typografie: Form III
Aufgabe 5: Abschlussprojekt
13.05.2014: Objekte und Agenten
20.05.2014: Interaktion I
27.05.2014: Interaktion II
03.06.2014: Form IV
10.6.2014: Vorlesungsfrei
17.6.2014: Projekttag
24.6.2014: Projektbesprechung
1.7.2014: Projekttag
3.7.2014: Ausstellung instant3
8.7.2014: Projekttag

Material
Software
Hilfe
Inspiration:
Filme: