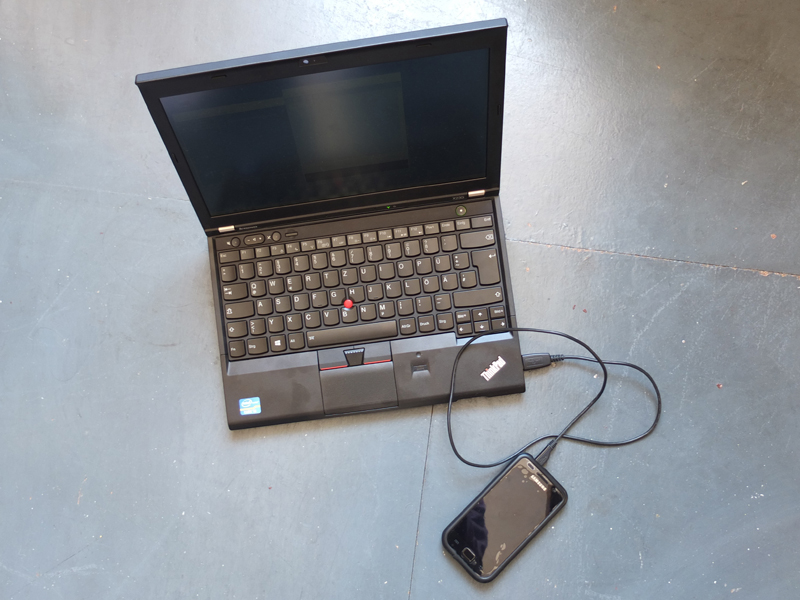 A seminar at Fachhochschule Dortmund, University of Applied Sciences and Arts, Faculty of Design.
1.10.2013: Einführung
8.10.2013: Erste Schritte – Setup
Installation
Download Processing (Win32/Win64/Mac)
Entpacken
Installation (siehe Processing for Android: Instructions)
Starten und Installation der Modes für Android und JavaScript (bzw. manuelle Installation in [Sketchbook-Ordner]/modes/)
Test!
Öffne Examples/Topics/Interaction/Follow2
Play
Mode: Javascript
Play
Mode: Android
Android AVD Manager
Sketch: Run in Emulator (evtl. Port einstellen, siehe Bild)
Telefon bereit machen: Running on a Device
verkabeln
Play
15.10.2013: Erste Schritte – Programmierung
Alternativen zu Processing für Android:
Processing for iOS (begrenzt einsetzbar)
An Editor for Processing (Android, sehr begrenzt einsetzbar)
Procoding (JavaScript, iOS)
TouchOSC (Android, iOS) in Kombination mit z.B. Processing, MAX/MSP, Pure Data, Ableton Live, Reason, Resolume, …
JavaScript/HTML5, processing.js (JavaScript Mode)
Erste Schritte Programmierung:
22.10.2013: Bilder in Bewegung
28.10.2013: Objekte und Bilder
Programmhinweis: 6.12.2013, Ausstellungseröffnung "Computerspielen. Perspectives of Play" im Dortmunder U (zur Next Level Conference 2013).
Apps: audiovisuell und zeitbasiert, interaktiv, rich (Multitouch, Sensorik, Vernetzung), mobil und intermedial:
Programmierung:
5.11.2013: Schleifen, Listen, Animation und Text
Programmierung
12.11.2013: Add/remove, SVG, Gesten und Projektbesprechung

Programmierung
19.11.2013
26.11.2013:  Projekte, Sound, Location, Zustandsmaschinen
Programmierung:
3.12.2013: Projekte, Laden/Speichern, (Generatives)
Programmierung
10.12.2013: Projekttag: Einzeltermine
17.12.2013: Zwischenpräsentation
8.1.2014: Projekte
14.1.2014: Projekte/Besprechung Ausstellung
21.1.2014: Projekte
28.1.2014: Projekte/Ausstellungsaufbau Instant 2
29.1.2014: Ausstellung: Instant2