Experimental interface, 2004-2006
In cooperation with Hans H. Diebner and Sebastian Fischer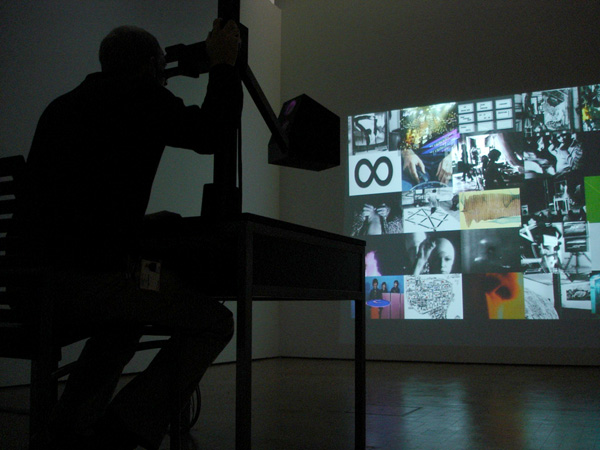 EyeVisionBot ist an experimental interface for gaze based image retrieval: While a user is watching a set of images, the system tries to infer what kind of images she is looking for.
To do so, an eye tracker measures the dwelling time on a set of images that compete for the user's attention. The system then retrieves images similar to those watched most and repeats the process of presentation, measurement and retrieval. From a user's gaze behavior thus a nonlinear path through an image database emerges. To determine image similarity, context based image retrieval as well as metadata are employed.
The system was created as an interactive installation at the Institute for Basic Research of the ZKM, Center for Art and Media. It was shown as part of the collection of the Musem of the ZKM from 2004 until 2005 and won a prize at doIT-Software Award 2005.
›› M.Sc. thesis and book: "It's in Your Eyes. Gazed Based Image Retrieval in Context", ZKM, Karslruhe, 2005
›› EyeVisionBot in the exhibition Masterpieces of Media Art from the ZKM Collection
›› EyeVisionBot at mediaartnet.org