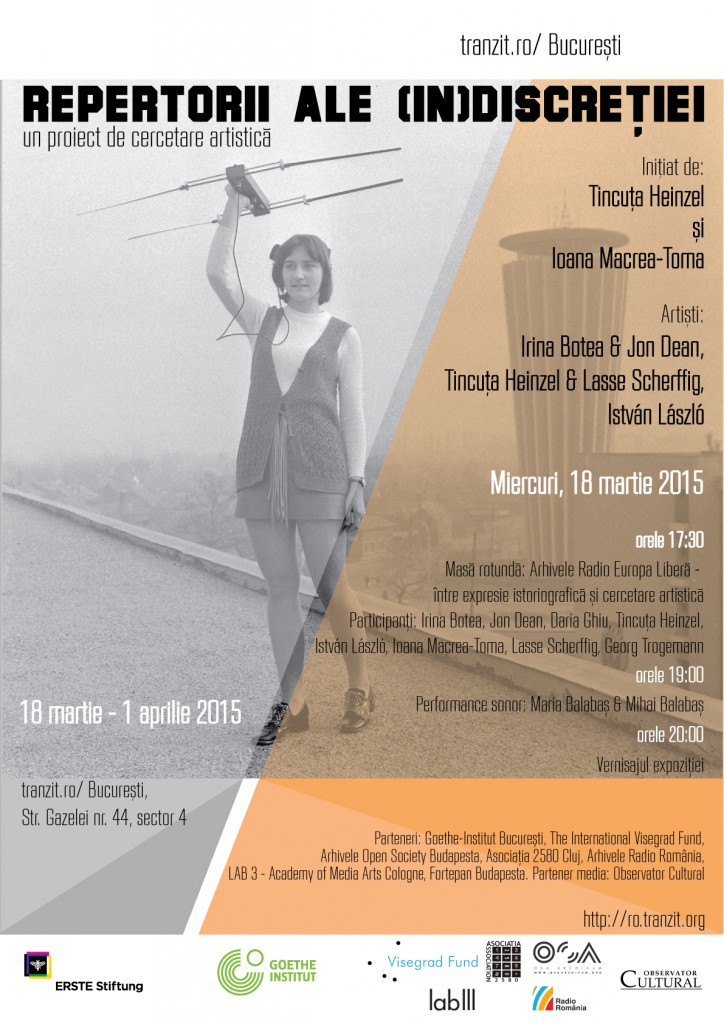 An exhibition at Tranzit Bucharest of the artistic research project Repertories of (in)discreetness – initiated by Tincuța Heinzel and Ioana Macrea-Toma, featuring our FM radio installation Signal to Noise as well as works by Irina Botea & Jon Dean, and Istvan Laszlo.
Exhibition: March 18th-April 1st, 2015
Venue: tranzit.ro/ București, Str. Gazelei nr. 44, sector 4
Round table: The Radio Free Europe Archives – between historiographical expression and artistic research
March 18th 2015, 5:30 pm
Participants: Irina Botea, Jon Dean, Daria Ghiu, Tincuța Heinzel, Istvan Laszlo, Ioana Macrea-Toma, Georg Trogemann, Lasse Scherffig.
Sound performance: Maria Balabaș
March 18th 2015, 7 pm
Opening of the exhibition
March 18th 2015, 8 pm
Partners: Goethe-Institut Bucharest, The International Visegrad Fund, Open Society Archives Budapest, Asociația 2580 Cluj, Radio România Archives, Lab3 – Academy of Media Arts Cologne, Fortepan Budapest
Media partner: Observator Cultural